Welcome to Schmalfilm-Archiv
the 8 mm Experts

Two years ago, when we switched completely to 1080p Full-HD, many called that over-kill. The old PAL DVD is good enough for narrow gauge films, it was argued. Meanwhile, "HD" has become the buzzword, but HD isn't the same as Full-HD and other factors contribute to huge quality differences as well.
If you consider your films to be important family and social documents, if you are planning to edit them a little and then pass on an "archive with future", please, read on!
We are experienced - with film as well! - use state-othe-art technology and deliver outstanding results.
Have fun exploring our pages and then, call me with the inevitable questions.
KInd regards from Berlin!
Enrico Sohn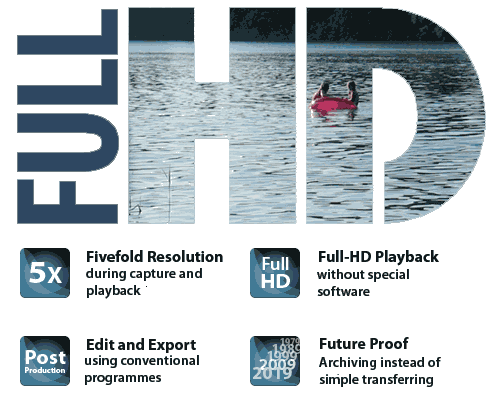 Further advantages of a true single-frame digitization:
- each film frame a 1080p video field
- no blended mix-images due to interlacing
- precise film speeds - variable from 5 to 30fps
- progressive M-JPEG AVis for frame-accurate film editing

And, since Summer 2010 a real .....